History of High Street Surgery Practice
The present Glen Mor Practice formerly "High Street Practice" has been providing medical services in Fort William and the surrounding area for 70 years.
Dr.Isaac MacIver was the "father" of the practice. A Lewis man, he had originally arrived by motorbike to work as an assistant to Dr. Grant of Ballachulish. He shared Dr. Grant's socialism and provided services in Kinlochleven and Onich.
He moved to Fort William and set up a surgery in about 1924 as the construction of the Aluminium factory was in full swing. He continued to hold surgeries in North Ballachulish for five years but in the 1930's built " Valtos " (named after his home village in Lewis) where he held his surgery.
He was highly regarded by his patients and in the community where he was elected Provost of the town from 1946-1947.
He worked largely single-handed but in the late '50's took in an assistant. Dr.Macleod was an early assistant who later practised in Arisaig.
In 1964 however Dr.MacIver was killed in a road accident whilst travelling to see a patient on a night call.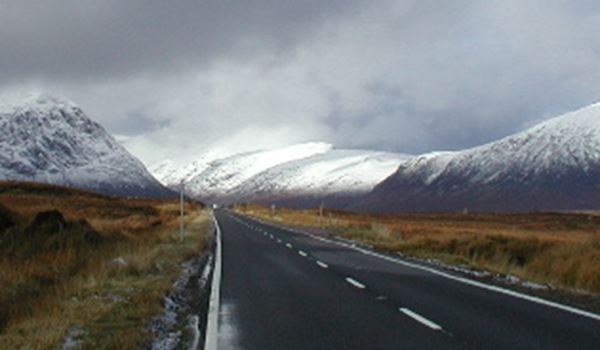 Dr. Murray Kirkwood, his assistant at the time took over but in 1968 he left to join a group practice in Inverness. Dr. Kirkwood left behind him the first real practice records - on his arrival they had been stacked in a large cardboard box under the examination couch!
Dr.Cameron Roy Innes was appointed to look after the 2500 patients then in the practice and moved from a single handed practice at Foyers. An Aberdeen man, he had worked previously in the Shetlands and single-handed in Barra for 11 years.
He was a quiet, compassionate man with a smattering of patients who still travelled from Barra for consultation.
Dr.Innes briefly employed an assistant, Dr. Jardine, and when he left in 1969 Dr.Sukumar Sen, surgically trained and a registrar in the Belford Hospital joined him in full partnership.
Dr. Sen provided relief cover for the surgeon, Iain Campbell, in the Belford as an unpaid "honorary clinical assistant" for five years. He was then appointed the first doctor in Scotland recognised as a "Hospital Practitioner" in General surgery.
Drs.Innes & Sen continued to practice from an old converted stables in Fassifern Road . A tiny reception room held the records with just enough room for the partners, receptionist, a part-time secretary and practice nurse to meet together.. The latter was one of the first appointed in the Highlands (1971) and had her own car funded by the practice for home visits.
District Nurses also became attached at this time and the first Trainee doctor, Dr.Peter Powell was appointed in 1973.
The premises proved very inadequate, with an outside toilet and the need for a bucket to collect the rain dripping from the ceiling in inclement weather.
The single consulting room ( and tiny annexed examination room) were just too small when the next trainee Dr.Chris Robinson was appointed as a third partner in 1975 (he had spent a student elective in the practice in 1970).
Promises of a Health Centre for all the town practices had held back change but eventually the Fassifern Road building which was shared with another practice was condemned and the two practices moved to the vacant offices of P.L.J.Heron, contractors, at Nevis Bridge Fort William.
Attempts by the practice to buy these premises after the liquidation of the building's owners failed but fortunately the practice managed to obtain premises on the first floor of a new building at 99 High Street.
Plans were drawn up and the surgery layout designed; the opportunity was taken to upgrade the practice with the introduction of A4 records and the employment of extra staff.
Dr.Innes was instrumental in finding the new premises but after a short illness died and never saw the move to the High Street in 1979.
He was succeeded by Dr Judith Gibb a Glasgow graduate who had been the trainee in the practice at the time.
The practice continued to grow and in 1983 Dr Hiresh Lal Roy who had previously been a trainee in the practice returned to Fort William to become a fourth partner. Dr.Roy took on some of Dr.Sen's surgical responsibilities in the Belford and took an interest and has built up a sizeable practice in homeopathy and latterly Acupuncture.
In 1984 the practice bought its first computer operating "Praxis" software and by now was a well established training practice and also attracted several medical students attached every year from home and abroad.
Dr. Gibb had become part time and in 1989 resigned due to family commitments when Dr Liz Merry was appointed in her place in a full time capacity.
The practice continued to develop with seven ancillary staff led by Mrs.Jean Hynd -who had started with the practice as a part time secretary back in 1976.
Between 1988 and 1990 a large scale survey of our 20-50 year old male patients was carried out. Donna Brown , our Health Promotion Officer performed a number of examinations and tests on the 726 patients who attended. Fasting lipoproteins were measured and E.C.G.'s performed on all the patients and follow up continued.
We were gratified by the response rate (73%) but disappointed by the numbers of patients smoking which must contribute significantly to our high level of Ischaemic Heart Disease. The resultant paper was published in "The Scottish Health Bulletin".
In 1994 congestion in the surgery was in part relieved by the division of the two consulting rooms into four.
In 1995 Dr. Su Sen retired and his departure was marked by a gathering of some 130 colleagues and patients in the West End Hotel to record the respect he had earned in the community. His contribution to the community was recognised with an MBE in 1997 and still he strives on working in the community.
Dr Joe Tangney re-joined the practice as Dr. Sen's replacement in 1995, returning from New Zealand where he had worked for four years following his training year in the practice.
In the same year Mrs.Jean Hynd retired to be replaced by Mrs Ena Hutchison as Practice Manager.
Further investment in computerisation followed with a new networked GPASS system and Dr. Liz Merry took over responsibility for training from Dr.Robinson.
In 1996 a " Practice User Group " (PUG) was started in the practice and has continued to act as a channel of communication between the Practice and its patients. The fourth copy of its newsletter edited by George Anderson was received enthusiastically and we hope for more from "PUG" as the new Millennium unfolds.
Between 1997-1999 the cardiovascular cohort study of male patients was repeated and 500 men returned for a re- assessment of their cardiovascular health risk. Results from this survey were published in the British Journal of General Practice Sept 2002.
In 1998 " Out of Hours " services were shared between the town's three practices, allowing more time of for doctors. This has been well accepted by patients.
Regular monthly meetings attended by Doctors, Practice Staff, District Nurses, Health Visitors, Midwives, Chiropodists, Occupational Therapists and our CPN together with our affiliated Social Worker have now been well attended for a year.
Unfortunately in April 2002 Dr Liz Merry retired due to ill health. While working in the High Street Practice for the last 12 years she made a large contribution to the excellent standard of care within the practice. Also as Trainer she was responsible for overseeing the Registrar's training which she carried out with great energy and enthusiasm. Dr Merry will be missed by her many patients, all her colleagues and staff in the High Street Surgery. Dr Joe Tangney became the GP Trainer in 2002 .
Dr Elvire Feeney became our new partner on April 1st 2002, having worked as a locum in the practice during the last year. She has a wide range of experience having worked in East Africa and a full time partner in the Parkhead Practice Glasgow for 10 years.
Dr Moira Tregaskis joined us as a Retainer Doctor in June 2001 and works two sessions a week. The Retainer scheme is to help female Doctors with family commitments to work part time in practice. Dr Tregaskis has many years of experience in General Practice especially in Family Planning Clinics. Dr Tregaskis was employed in our practice as a salaried GP working two to three sessions a week in our practice.
Dr Hiresh Roy retired in Aug 2006 having worked in our practice since 1983. Dr Roy provided our patients with the option of having alternative therapies such as acupuncture and homeopathy. Unfortunately he laterly developed health problems and we wish him a happy retirement .We were delighted to have Dr Lyndsey McConnell a former Registrar in our practice join us as a new partner. Dr McConnell brings great energy and cheerfulness to us and spent several years doing anaesthetics.
We moved into our new purpose built premises in Blar Mhor May 18 th 2007 shared by the other Town Practices, where the whole Primary Care Team can work on one site.
Dr Chris Robinson retired in April 2008 having worked in the practice since 1975. Dr Robinson's enthusiasm for general practice was tireless and knew no bounds. He was truly inspirational for all those countless medical students and trainees over many decades. He had absolute passion for the care of patients and their families. Chris could never say no to anybody and would often visit patients during his time off during weekends. Chris was a key member of the Save The Belford campaign team who successfully secured the future of the Belford hospital in Fort William. Also it was Chris' determination and leadership which helped the building of the new Fort William Health Centre. This is a state of the art new health centre which we are very fortunate to have in Fort William. We wish Chris a long and healthy retirement and thank him for his tremendous contribution to our practice.
Dr Craig Macmillan joined us as our new partner in Aug 2008. Craig who hails from Stornoway spent his final year in training in our practice. He is highly qualified and has three memberships MRCGP, MRCP and MCEM. An impressive achievement to say the least. Craig has settled in very well to our surgery/ Fort William and we are delighted to have him join us as partner. He is a keen piper and a member of a local pipe band. It is interesting that Dr.Isaac MacIver the "father" of the practice was also a Lewisman.
Dr Lyndsey McConnell moved to Kinlochleven practice in April 2011. Lyndsey made a great contribution to our practice over five years. She set up a very efficient and high quality diabetic care system which continues today. Lyndsey was highly organised and her cheerful disposition was a source of great laughter in our staff room. She wishes to persue further studies and a degree course in diabetic care. We thank Lyndsey for her valuable contribution to our practice and wish her all the best for the future.
Dr Leslie McGlynn joined us as a new partner in April 2011. Leslie while undergoing GP training had already worked in the Belford Hospital and Craig Nevis Surgery. She then worked as a salaried doctor with us for a year before joining as a partner. Leslie has taken over the role of clinical lead for Diabetic Care in our practice and is studying a Diabetes Management BA in Health Studies in the UHI
Dr Moira Tregaskis retired in Nov 2015 and we thank her for her great contribution to our practice especially women's health and family planning. Over many years she looked after our Glen Mor patients, the Belford Family Planning Clinic and regularly went to Mallaig. Also Moira helped many patients with psycho sexual counselling. We wish Moira a long and happy retirement.
Dr Jane Hemm joined us a salaried GP after finishing her GPST training in 2014. Jane is from Fort William and went to university in Newcastle . She brings great energy to our practice and works six sessions a week . Jane has an interest in women's health and enjoys outdoor persuits with her family.
Dr Finlay Wild joined us as a salaried GP in Nov 2015 . Finlay is a world class athlete and repeatedly breaking records . In April 2018 Finlay decided to become a locum alowing him more freedom to participate in international events. This decision has already paid off with great success in Finlays's first season . We wish Finlay all the best with his athletic career and hope he will continue to help us by doing some locum work .
Dr Charlotte Cant joined us in June 2017 from the United States and works as a salaried GP. Charlotte did a medical elective many years ago in our old High Street practice. She worked in Alaska before coming to the Highlands of Scotland with her young family. Charlotte has many interests including outdoor persuits and music.
Dr Elvire Feeney retired on the first of April 2019 having worked with us for 18 years. Elvire brought a unique set of skills to our practice providing Homeopathy and Hypnosis for our patients. These alternative treatments helped countless patients when conventional medicine had not worked. Elvire was also an approved GPST Trainer /Educational Supervisor and guided her first trainee to a distinction in the MRCGP exams in 2007 . This was a wonderful achievement for our small Highland practice and was the result of Elvire's excellent training . During Elvire's 18 years in High Street /Glen Mor she provided the very best of care for our patients and repeatedly went the extra mile to help our patients. Her good humour and chat is missed by her colleagues and staff alike . We were extremely lucky to have such a wonderful and hard working GP as our partner for all those years . Elvire has many outside interests and contiues to keep fit and active . We thank Elvire for all her hard work and huge contribution to our practice and wish her a long healthy and happy retirement.
Dr Becky Weir joined us as a partner in August 2018 having worked as a locum for several months. Becky brings a wealth of experience having worked as a GP in Edinburgh before moving to Lochaber. She worked as locum in several Practices in Lochaber and in the Belford hospital for over 7 years. We are delighted to have Becky in our team and she has already made many positive contributions to our practice. Becky is a very fit and active person and has a special interest in Lifestyle Medicine and Low Carb living .
Dr Craig Macmillan went to New Zealand in 2018 and we are delighted to welcome Craig back to Glen Mor in Oct 2019.
Thus the succession of the present High Street Practice/Glen Mor Practice continues to provide a high standard of medical care, encouraged by the example of our forebears.